Portugal Real Estate Market: Quarterly Update
Update
Lisbon and its suburbs, particularly Cascais, are the most popular places to live and invest in Portugal. They offer a balance of sophistication, charm and lifestyle that is unique and sought after.
From recent data released by idealista.pt long-term rental prices in these locations are rising faster than the prices of apartments and houses for sale. This is understandable in an environment of rising interest rates where owners look to maximise the income generated by their properties. Yields above 4,5% are not uncommon even on prime residential assets.
Furthermore, foreigners arriving, among them digital nomads, look for a soft landing and often rent for a year or two before buying. Typically, they move to areas with like minded neighbours and essentials such as good schooling, walkable retail and lifestyle benefits like parks or beaches - aspects that Lisbon and Cascais offer in abundance. Branded Service Residence apartments are of particular interest and rent at a premium.
According to a recent Savills report, Lisbon's rental prices have risen 15% over the last 6 months.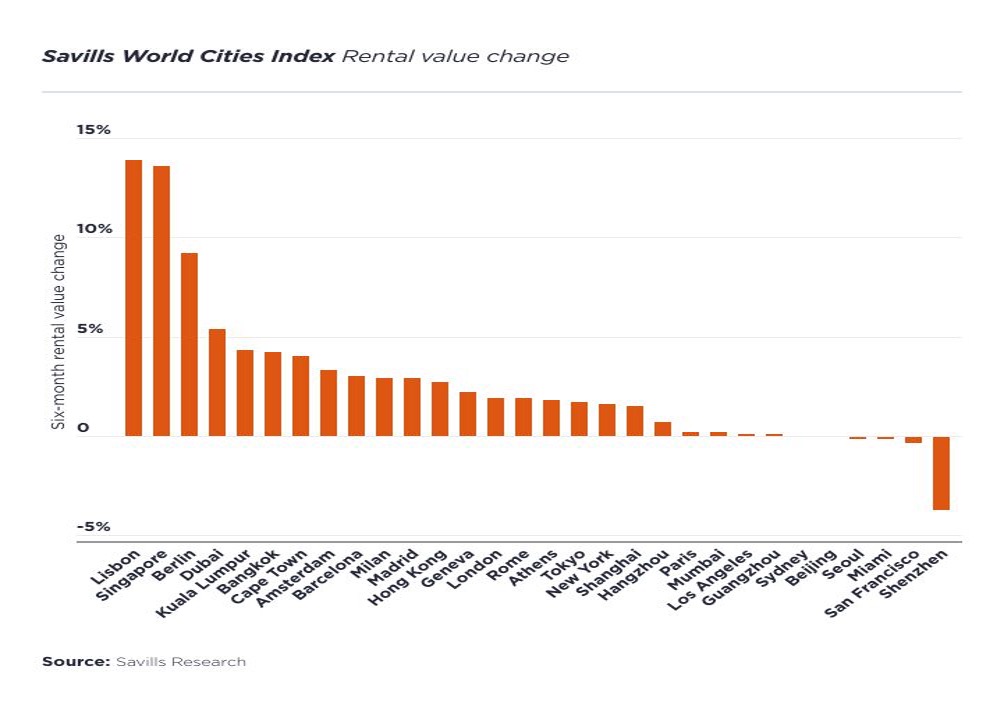 While increases in rental prices are accelerating at a faster rate than sales values, that is not an indication that the sales market is performing poorly. Idealista, the premier platform for house sales in Portugal, also note that 27% of properties listed in June 2023 have sold within 1 week with only 6% online for more than a year. Developers remain buoyant and usually sell out off-plan well before the project is complete.
A combination of growing international demand and a robust Portuguese buyer demographic, as well as lower supply, have all contributed. A record-breaking volume of sales in 2022 (13% up on 2021) while in parallel approvals for new buildings were down by 20% in a similar period explains some of the undersupply issues.
Unsurprisingly, home prices continue to rise despite a clear slowdown in the Portuguese middle-class segment as access to credit becomes challenging. The National Institute of Statistics, www.ine.pt, has noted a decelerated rate in the increase of property prices of over 8% when compared to recent years. A solid number that shows the status of a mature market and benefits of investing in areas with substance and track record. Double digit increases in value are clearly not sustainable long term and investors would be mindful to focus on areas with solid fundamentals.
Therefore, cautious optimism is evident in the Portuguese real estate market. Buy well, hold and rent well, being the preferred strategy. Upcycles in the sales market will arrive in years to come when strategic offloading of well acquired assets can be maximised.